Remember those days where we were all crazy about snow flake ice desserts originated from Taiwan?
And remember our favorite neighborhood snow ice shop 32 Degree Fahrenheit ?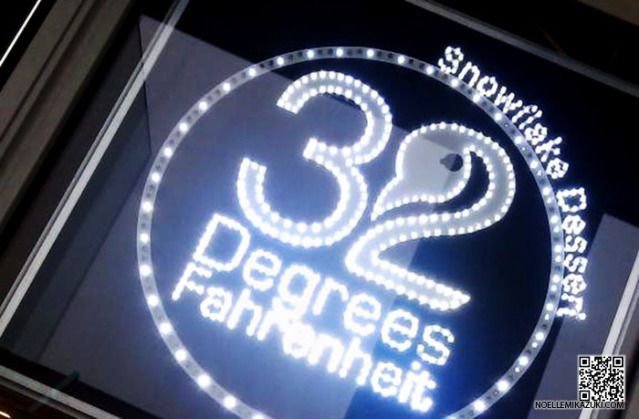 After eight months of hiatus, it's back !
Located at a new building , Suites @ Katong
The new dessert shop offers new snowflake ice creations on top of the ones they had before.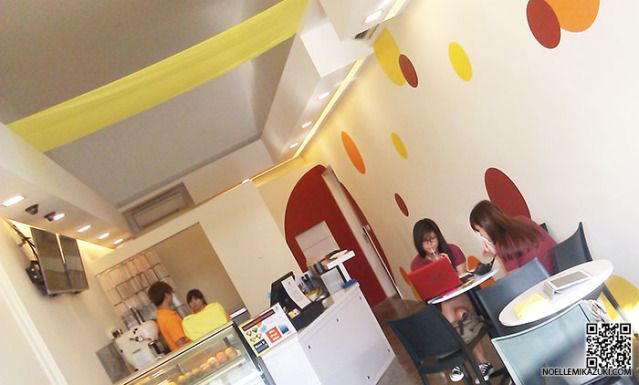 Interior of store, photo credits to Noelle
Cosy little place suitable for friends to drop by and chill.
Watermelon and Mango Smoothies to quench your thirst before we start?
32 Degree Fahrenheit uses the freshest natural ingredients to make their signature snow ice and therefore the slight inconsistent color and taste. Acceptable la, how can different fruits produces the same color and taste throughout. Right not?
To make sure you and I gets to eat daily made snowflake ice , we definitely needs to support them more!
Sky Snow/冰天雪地 ($18.80)
Suitable for 4-6 pax.
With a base of snow ice 2.5 times bigger than the normal portion, you get to choose between 4 fresh fruit toppings and 4 normal toppings.
We had mango snow ice as our base, and fruits we had kiwi , strawberry, mango and grapes!
It's $4.70 if divided by four and $3.13 if divided by six.
Most of the time it's not the price that matters, it's the fun of eating.
MUST SHARE AND FIGHT WITH FOOD, THEN FUN WHATTTTT
While this is totally worth it then !
p/s: They also have a challenge for one pax to finish the whole thing before the dry ice finishes (approx 7 mins) If you manage to do it, you get the sky snow you finish free !
The thing about them is every snow ice dessert you order you get to choose a topping of your choice. It's a good thing because you don't have to eat something you don't like. Yippee
We had ours chose by the shop staff!
Chocolate Snow Ice ($4.50)
This chocolate snow ice has it perfect sweetness. It's not overpowering and it gets your spoon to scoop for more. I believe it will be popular among kids and great for parties !
Green Tea Snow ice ($4.50)
Non matcha fan have to try this. It tastes like ice cream but lighter.
Yogurt Snow Ice ($4.50)
NOW. THIS IS SOMETHING NEW, the yogurt snow ice tastes like frozen calpis .
Calpis is something like yakult if you do not know. It's not my thing cause it's too sweet for me.
If you have a sweet tooth, you will like it.
Lovers' concerto ($9.90)
With a base snow ice slighter larger than the normal portion , this dessert is great for lovers or friends of 4.
You get to choose 2 fresh fruit topping and 2 normal topping.
We had milk snow ice for this, and its super yum.
Anything with the milk smell I would probably throw up but THIS!
有淡淡的奶香。超棒
More fruity smoothies for you to choose from after your snow ice desserts !
SO MANY TOPPINGS YOU CAN CHOOSE !
NOT YET DONE !
OPENING MONTH PROMO, gets to win ipad mini
I SEE ALREADY ALSO WANNA JOIN !
Good things come in a package, so courtesy of the management team , they decided to let me host a giveaway .
I have 5 x $10 cash vouchers to giveaway.
All you need to do is to follow me on twitter @yourapplepie
and RT this tweet !
"Anyone rmbs 32degree Fahrenheit? I have 5x $10 cash vouchers t giveaway.RT this tweet to win! ends 5feb 3.20pm . (*´▽`*)"
LOCATION !!!!!!!!!
Quite a challenge for me to get there so there you go ~
32 DEGREES FAHRENHEIT
263 Tanjong Katong Road,
#01-03, Suites@Katong Singapore
Singapore 436050
Nearest MRT : Dakota Mrt Station
Nearest bus stop no. : 82079,82071
Loves,
A.